Angelini Pharma achieves the "Best in Media Communication 2021" certification!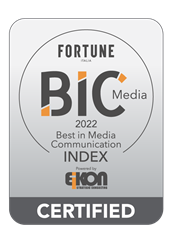 Another great success for Angelini Pharma, which has been certified Best in Media Communication 2021 (BIC) following an audit conducted by Eikon Strategic Consulting and aimed at scientifically and objectively measuring the results of corporate communication.
The company, in fact, stood out thanks to its excellent reputational positioning, the positive judgment of journalists, and its ability to effectively communicate both its being caring for the well-being and safety of citizens and patients and its being dynamic, innovative, and active in the development and research of increasingly effective drugs.
The materials under evaluation, in particular, were:
61 national articles;
19 local articles;
15 press releases;
300 online news items;
91 events and statements;
materials related to preventive crisis management;
20 interviews with journalists;
our social channels.
"Having received the BIC certification makes us very proud, because it means that we are working well and that our efforts are being recognized and appreciated externally. In a historical period like the one we are living, carrying out effective and quality communication is more important than ever, especially for a pharmaceutical company" - says Daniela Poggio, Global Communications Executive Director – "Acknowledgements like this motivate us to do better and better, without losing that enthusiasm that drives us and that touch of creativity that allows us to innovate even in a regulated sector like pharma. For us, communication means taking care of people".
The BIC certification is the brainchild of Fortune Italy and Eikon Strategic Consulting and consists of an integrated system for measuring three parameters:
Reputation, or the reputational positioning of the company, measured by the visibility of individual articles/passages and the type of channel they are conveyed through;
Media Impact Assessment (MIA), i.e., the effectiveness of the communication team's work, which is assessed by analyzing the impact of press releases, the influence of interviews/statements given, the engagement in owned social media, and the management of communication flows in the case of a crisis;
Media Poll, i.e., the quality of relationships established with external media and the level of content enjoyment by external media. This parameter is measured by administering a survey to journalists in the company's industry.
In a context in which the positioning of big companies within the media ecosystem is rapidly changing, a tool such as BIC takes on a special value: for the companies it is indeed important - as well as strategic - to prepare a method that allows them to measure, in the most scientific and accurate way possible, the impact of their corporate communication.